Color Wheel Teeth Whitener
We are excited to introduce to you a 2 in 1 INSTANT PURPLE teeth whitener and toothpaste, created by a hairdresser and inspired by the Color Wheel Theory all cosmetologists use. It is safe, healthy, has a refreshing flavor and works right before your eyes. Consider Color Wheel as purple shampoo for your teeth. Rub our product onto your teeth and INSTANTLY see the purple color cancel out any unwanted yellow tones for a whiter, brighter smile.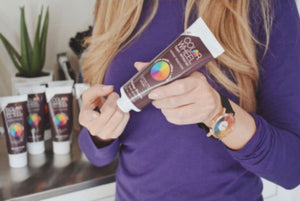 A few facts about using this product:
Color Wheel is an instant teeth whitener and does not go beneath the surface of your enamel!
Color Wheel is safe to use on Veneers!
Color Wheel is a Pretty Purple Color!
Color Wheel can be used as part of your daily beauty routine or used for occasions only!